This two-year College Tech Prep Academy combines academically competitive, college prep courses with hands-on technical studies. Students rotate through four technology areas-computer-aided design, (CAD), electronics, robotics & programming, manufacturing processes and polymers. ¾ of the program is at Theodore Roosevelt High school and ¼ of the program is at Stow-Munroe High School.
College prep courses in English, Algebra II or Honors/Adv. Algebra II, Pre-Calculus or Honors/Adv. Pre-Calculus, Calculus, AP Calculus, and Adv. Physics I and II are linked with the technology curriculum. University partners include Cleveland State University and The University of Akron.
Various instructional approaches are used, including team teaching, work teams, self-directed studies, and project-based learning. Benefits of this program include: exposure to key elements of various aspects of engineering; practical content for future college engineering courses; work with experienced engineers; and extra-curricular opportunities with regional competitions.
GRADE LEVEL: 10, 11, 12
SCHOOL: Kent and Stow-Munroe Falls High School
PROGRAM LENGTH: Two Years
CREDIT AT KENT:
Level I – CP English (1cr); Math (1cr: Algebra II or Advanced Algebra II, Pre- Calculus or Advanced Pre-Calculus); Advanced Physics I; Engineering IA (1cr) and IB (1cr)
Level II – CP English (1cr); Math (1cr:-Pre- Calculus or Advanced Pre-Calculus; Calculus or A.P. Calculus AB); Advanced Physics I (1cr); Engineering IIA (1cr) and IIB (1cr)
Two years

3.5 hours daily- from 7:30 am to 11:05 am

Two technical credits plus three academic credits per year
Algebra 1 and Geometry or Honors/Adv. Algebra 1 and Honors/Adv. Geometry

"B" or better in all math courses

Completion of one college prep credit in science and English

Recommended: Average G.P.A. of 2.75 for math, English, and science for three previous semesters

Average 95% attendance for three previous semesters
Principles of electronics, robotics & programming

Design and manufacturing processes

Computer-aided design (CAD)

Lab testing procedures/standards

Polymers

Principles of Applied Physics

Academy mathematics level is based on previous courses:

Algebra II or Adv/Hon Alg. II

Pre-Calculus or Adv/Hon Pre-Calculus

Calculus or AP Calculus AB (second year 2 only)

College Prep English: research writing, literary analysis, technical writing
Engineering: Aeronautical, biomedical, computer, electrical, environmental, chemical, civil, corrosion, mechanical, petroleum, and welding

Computer-Aided Design (CAD)

Polymer Science

Computer Programming

Environmental Science

Industrial Design

and so much more!
Higher Education Opportunities
College credits available - Students are eligible to earn 9 college credits through the University of Akron, Summit College.

Associate's degree

Bachelor's degree
Stories & Projects from Engineering Academy
Field Trips to Bridgestone and Goodyear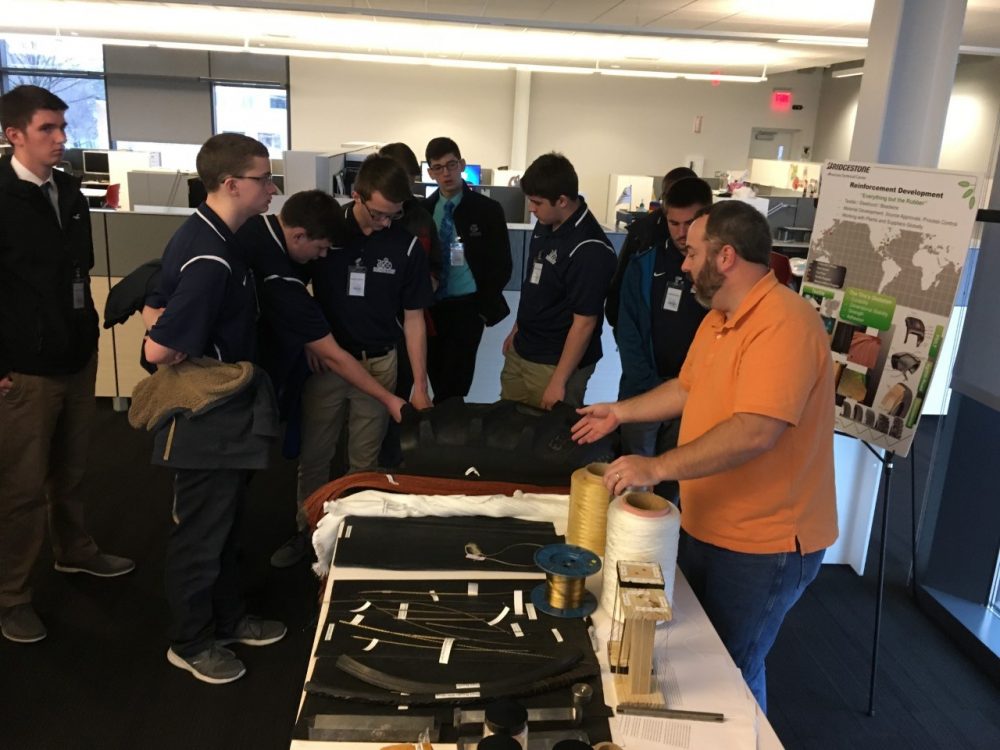 Pictured: Level I Engineering students at Bridgestone Tire & Rubber Center in Akron, OH
Level 1 Engineering students attend an annual field trip to Bridgestone Tire & Rubber Center located in Akron, Ohio. Students tour their Engineering Department after learning about the history of the company. Students see how CAD software is used in the tire industry and learn about the various types of tires produced from Indy Car to giant Farm Tractor tires.
Level 2 Engineering students attend an annual field trip to Goodyear Tire & Rubber company global headquarters located in Akron, Ohio. Students experience how the tire evolved over the last 100+ years while relating to how the field of Engineering has changed along with it. Goodyear also shares their additive manufacturing (3D printing) machines with the students to show how they are used in industry to build prototypes or models to share with potential clients. Goodyear also talks to the students about how they use their 3D printers to make custom parts for their assembly line machines to keep them up and running.
Engineering Students Visit Cleveland State
All Engineering students visited the brand new Washkewicz College of Engineering building at Cleveland State University. Students were given a tour of campus along with visiting the new state of the art facilities in the College of Engineering. The Academy students had the opportunity to hear from two former Academy graduates Megan Keleman (SMFHS) and Marcus Wilde (SMFHS) who led an activity for the students. Both Megan and Marcus were 2016 graduates of the Academy and now work as ambassadors for the College of Engineering.
Level I Students Visit the University of Akron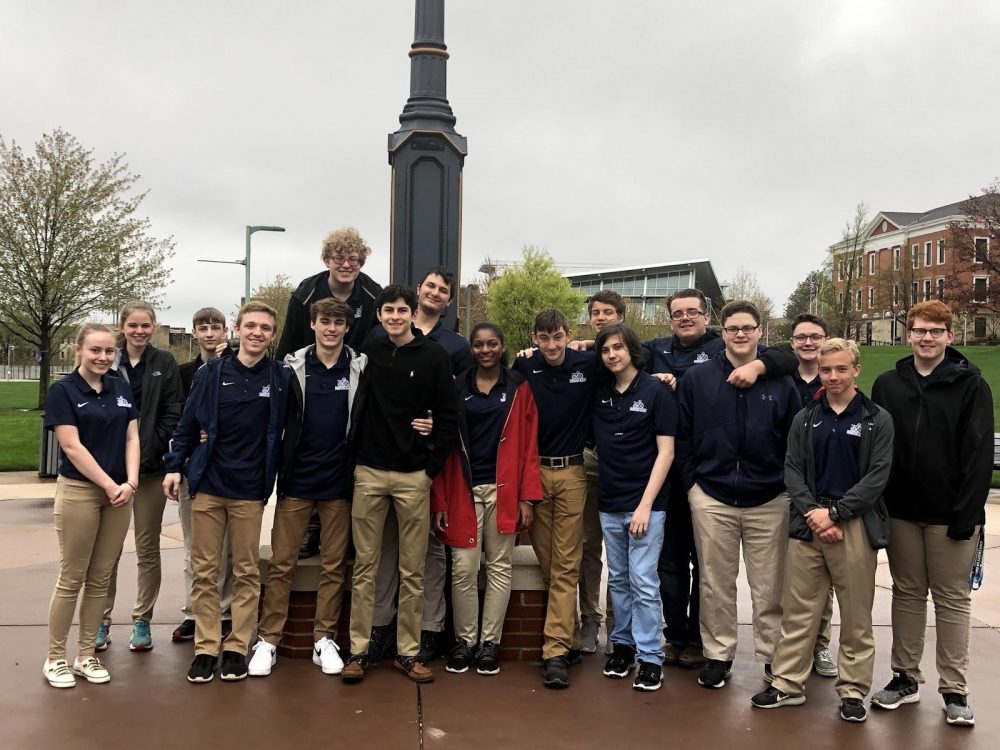 Level 1 students took a tour of the College of Engineering at the University of Akron. Students took a campus tour and then toured the College of Engineering seeing the Donovan Design Center (includes Formula Car Team), Civil Engineering Design Room (includes Concrete Canoe Team and/or Steel Bridge Team), Chemical Engineering Laboratory, and Polymer Science.
2013 Alum Returns to Present
Andrew Borsi, 2013 completer of the Engineering Academy, returned on September 24, 2019 to present to the students about Nuclear Engineering. He graduated from the University of Akron with a Bachelor of Science Degree in Electrical Engineering in 2018. Andrew began working at FirstEnergy Nuclear Operating Company (FENOC) in 2015, leading projects in developing state-of-the-art risk-informed applications, ultimately reducing operating costs and regulatory burdens while improving nuclear safety margins. His presentation to the Engineering Academy included the process of Nuclear Engineering, as well as the industry standards, including safety. Andrew shared his educational path, including his studies in the Academy, his transition to University of Akron, and his journey toward a career at FirstEnergy. He says, "The Engineering Academy provided me with the tools I needed to succeed in my college career. The most important of those skills was technical writing, which I have come to learn is the most important aspect of engineering activities: writing things down. Being introduced to multiple engineering disciplines helped point me in the right direction when I chose a college major and even helped me when faced with problems outside the academic realm."
Water Jet Pumpkin Carving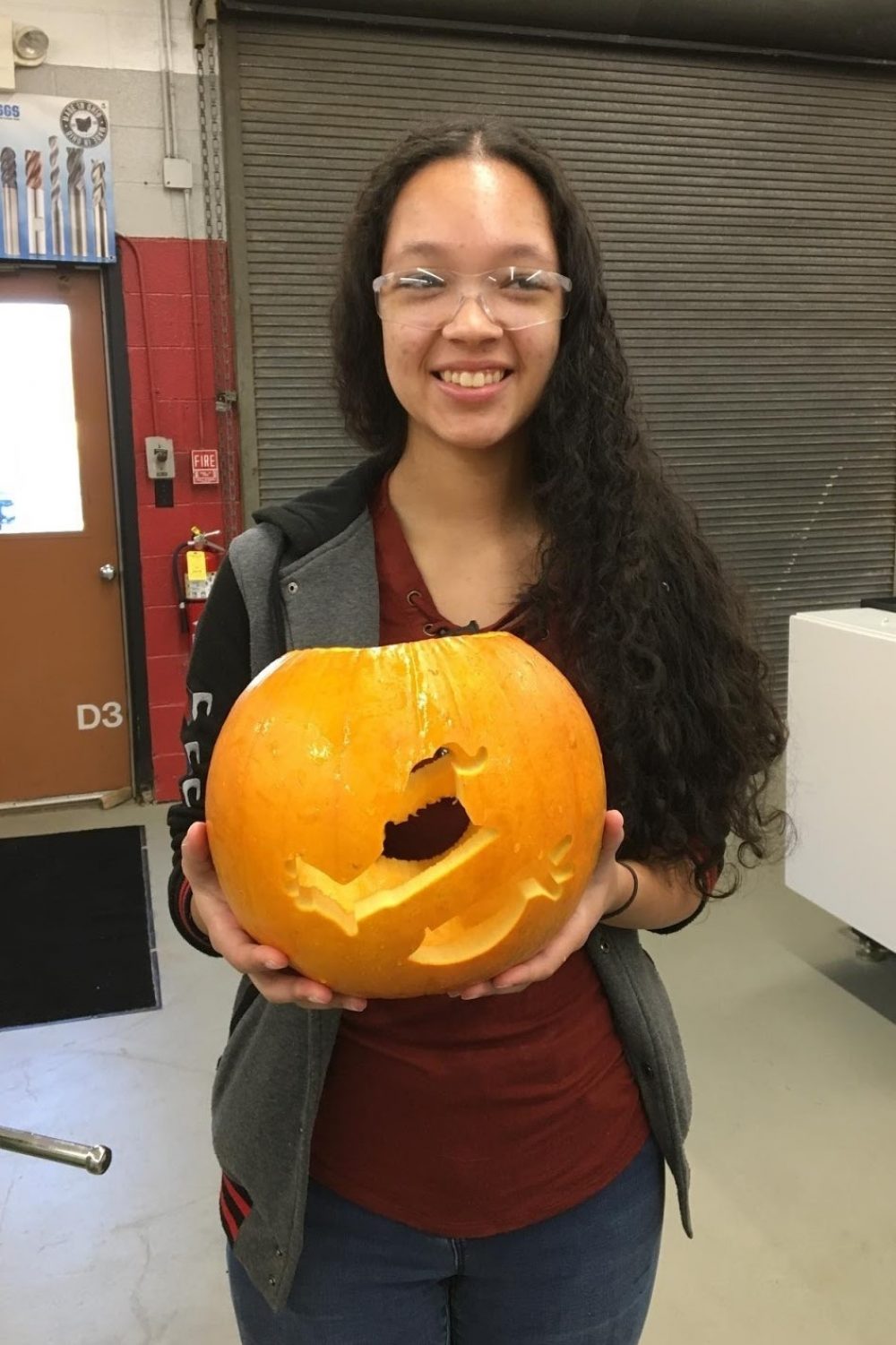 Carving a pumpkin, the AutoCAD way Level I Engineering Academy students drew a 2D design in AutoCAD and then programmed the water jet to carve their design in a pumpkin.
Pictured above: Megan Braeutigam, Tallmadge High School
Pictured below left: Joe Gavriloff, Roosevelt with Jackson McMinn-Hyde, Tallmadge, in background
Pictured below right: Madison Kaufman, Tallmadge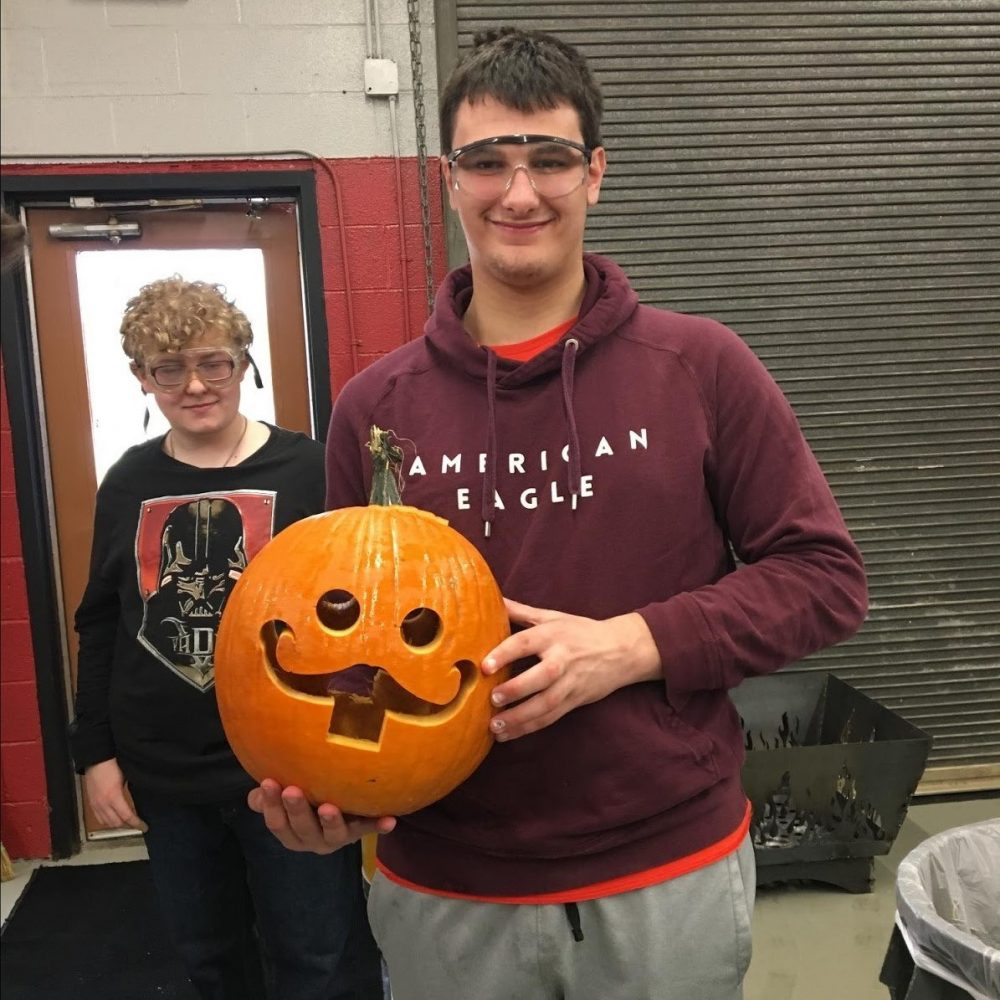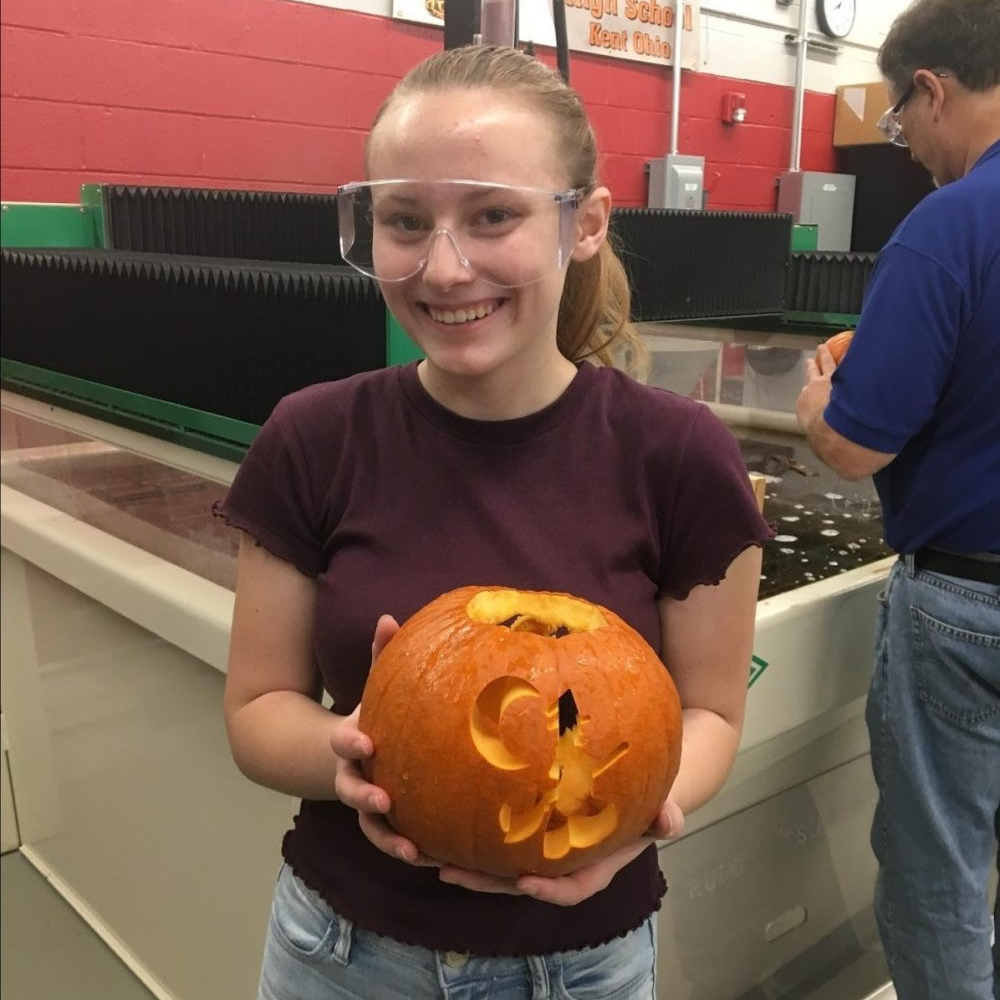 2019 Cleveland International Elastomer Conference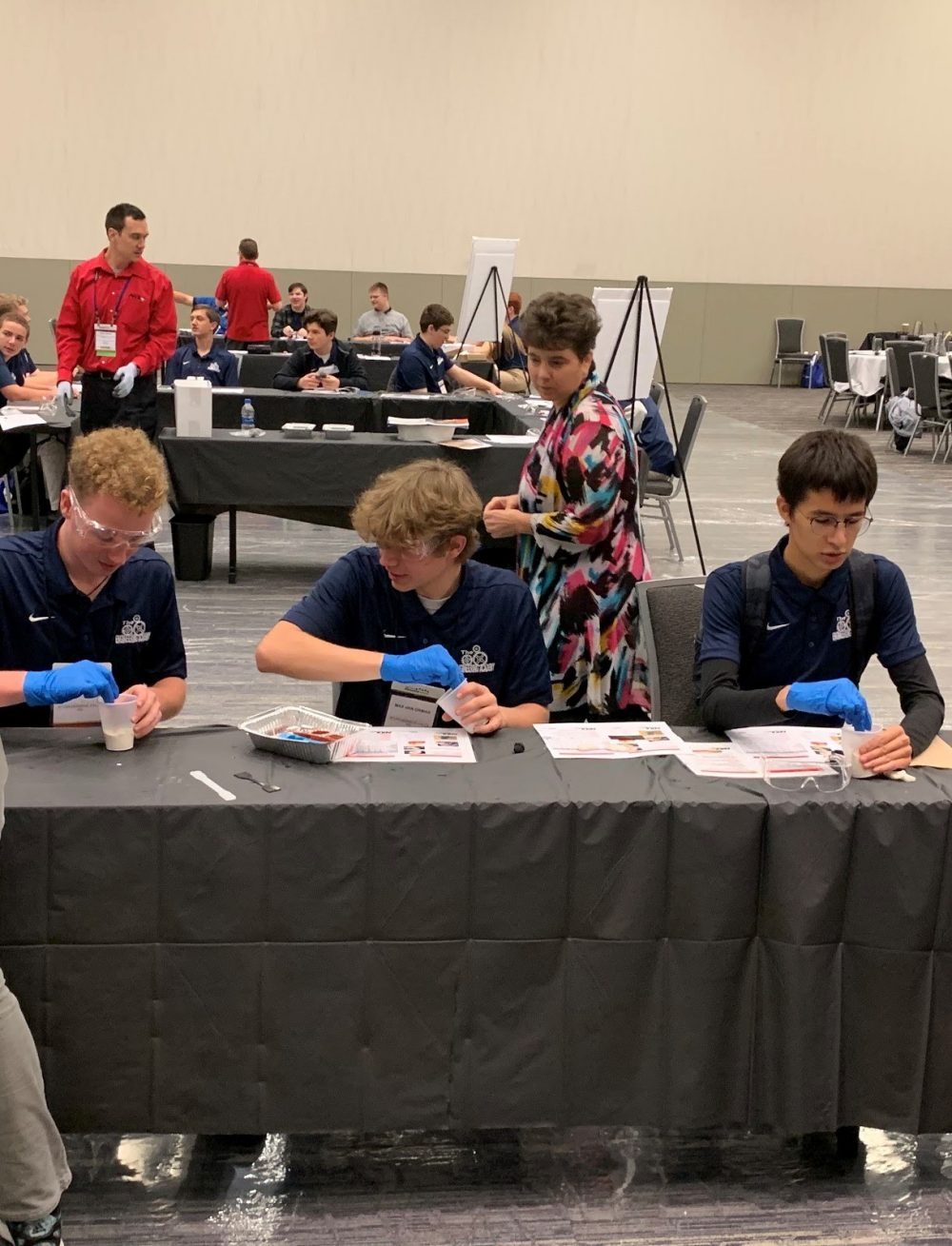 Both Level 1 & Level 2 Engineering students attended the 2019 Cleveland International Elastomer Conference that was held at the Huntington Convention Center. Students participated in hands-on demonstrations and experiments led by the local Akron Development Laboratories (ARDL) employees to learn about polymer properties of elastomers. Students also were given special permission to visit the Conference floor and interact with the global vendors present showing off the latest technology in the polymer field. Students spent over an hour talking with the representatives from large corporations to see what the company produces or products they sell.
Pictured: Students mix polymers together to make an elastomer (bouncy) ball at the International Elastomer Conference, 2019.
Engineering Academy Students meet Engineers and tour Bridgestone's Americas Technical Center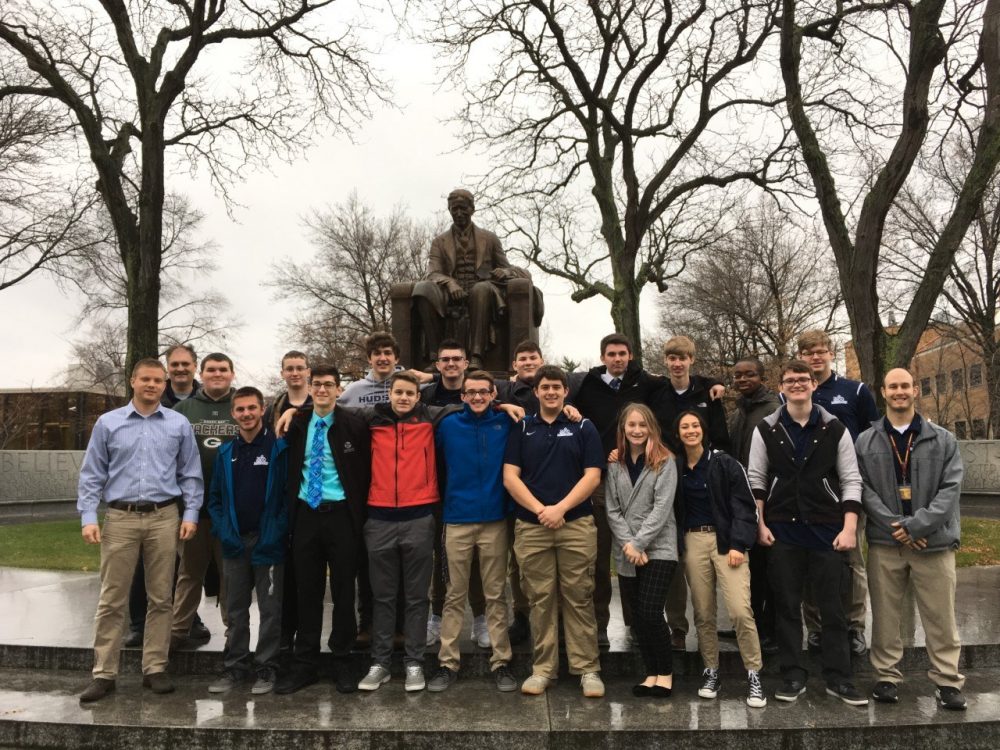 Six District Education Compact Engineering Academy students had the opportunity to meet engineers and tour Bridgestone's Americas Technical Center in Akron. The following engineers discussed their roles in inventing, designing, analyzing, building, and testing at Bridgestone.
Race Tire Design-Dennis Boley
Mold Design-Neal Sehm
Consumer Tire Development-Ian McKenney
Product Design-Dave Schultz
Virtual Tire-Paul Wischt
Commercial Tire Development-Joe Woodward & Wesley Schwarz
Materials-Neil Lanterman & Jacob Tiernan
Labs-Rick Wright
Proud Engineering Academy Alumnus-Doug Costlow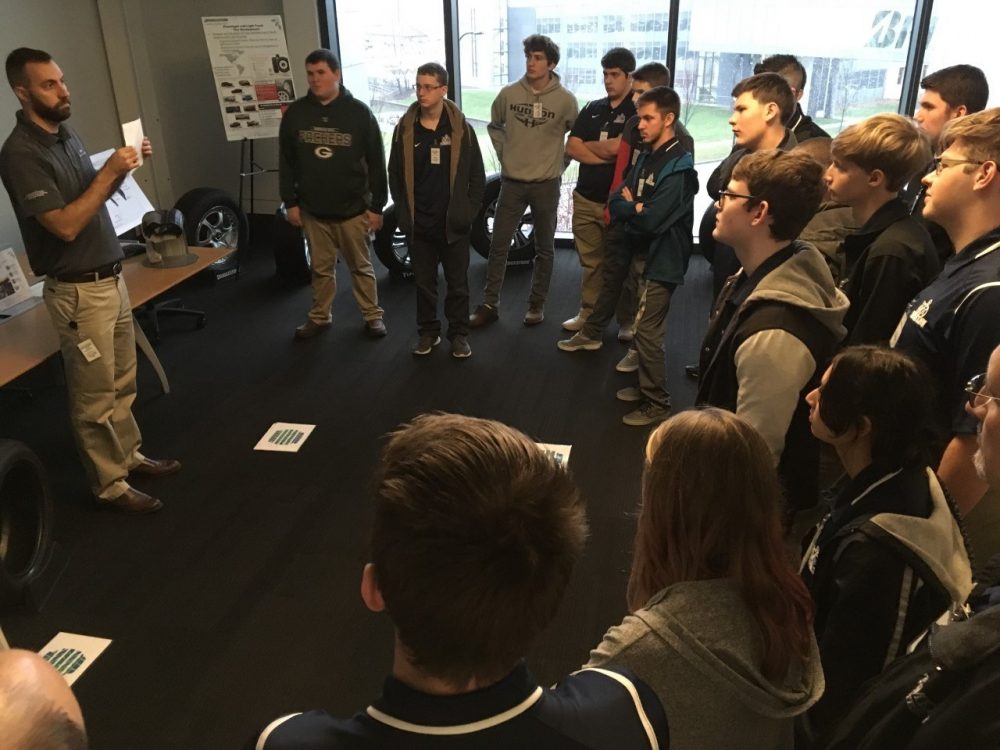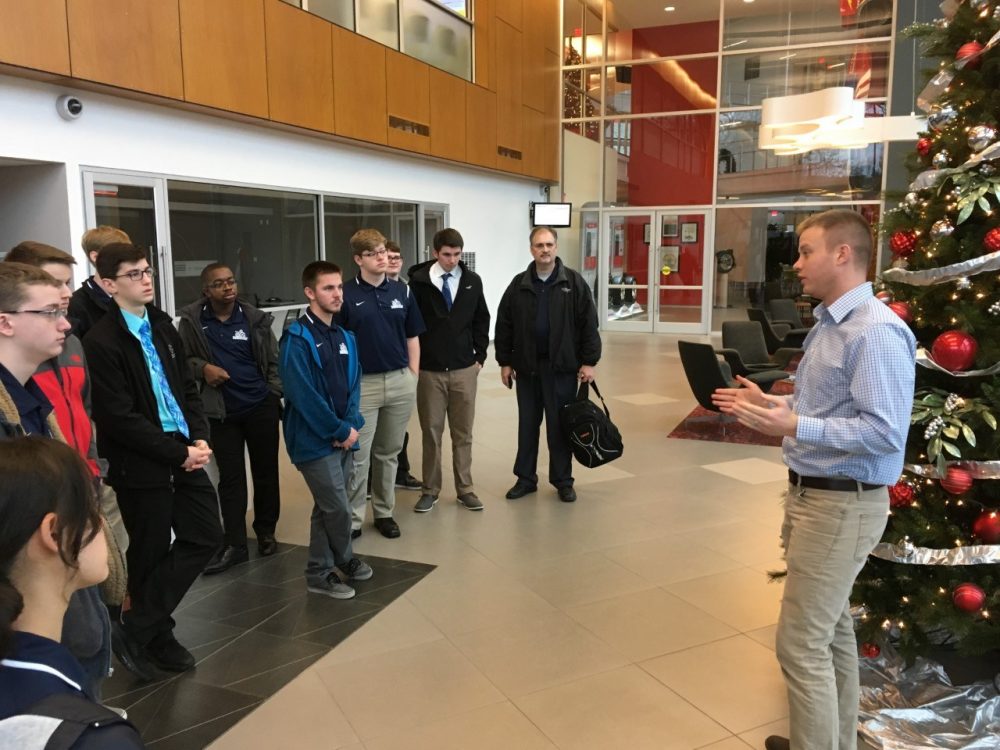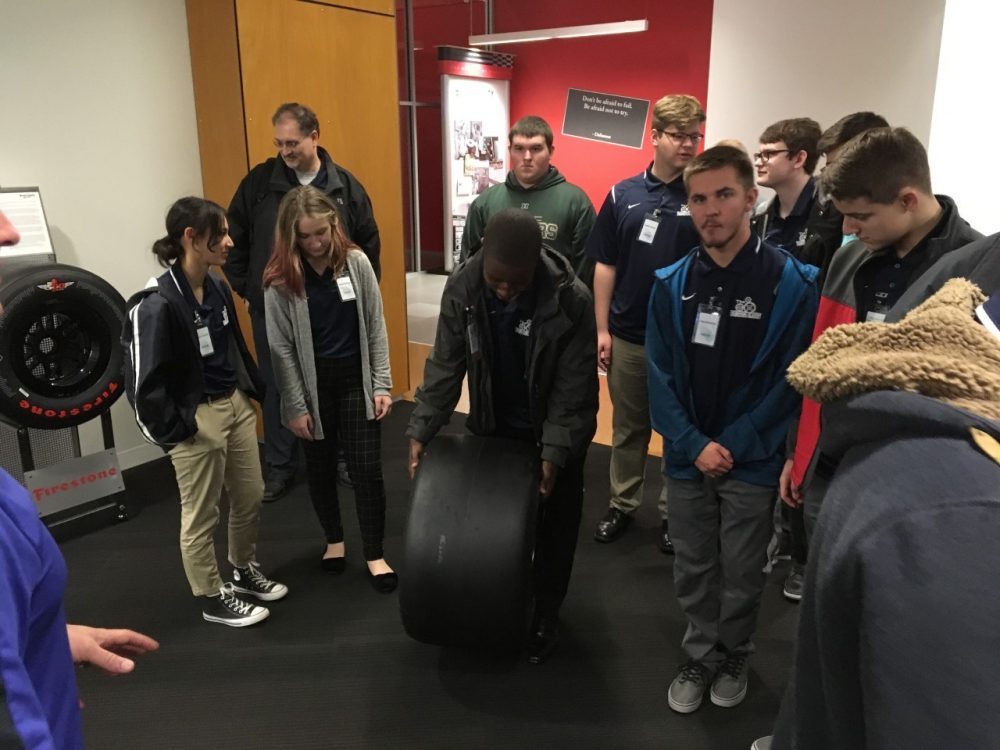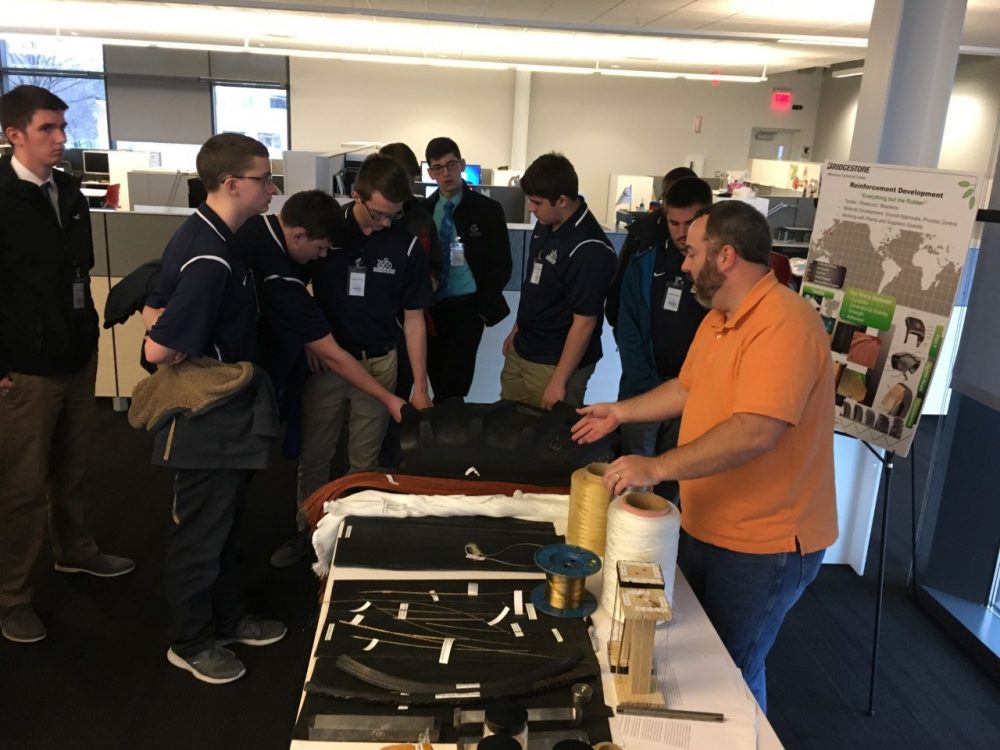 Engineering Academy Students Tour the University of Akron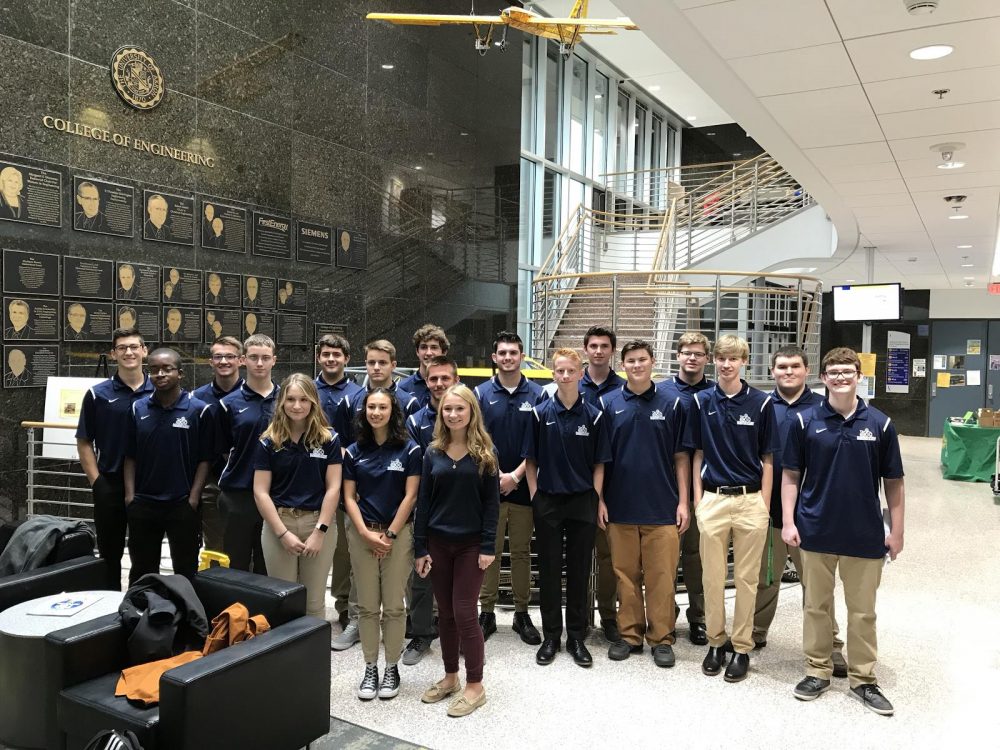 On October 5th, Level 1 Academy students visited the University of Akron. Students were given an opportunity to visit the campus and talk with a representative from the office of admissions and Dr. Mary C. Verstraete, the Interim Associate Dean for Undergraduate Studies from the College of Engineering. The students toured the Chemical Engineering Laboratory, Robotics Design Lab, and Civil Engineering Design Room, including the Concrete Canoe Team and the Steel Bridge Team, as well as the Donovan Design Center that included the Formula One Car Team.
Engineering Academy Students Tour Jergens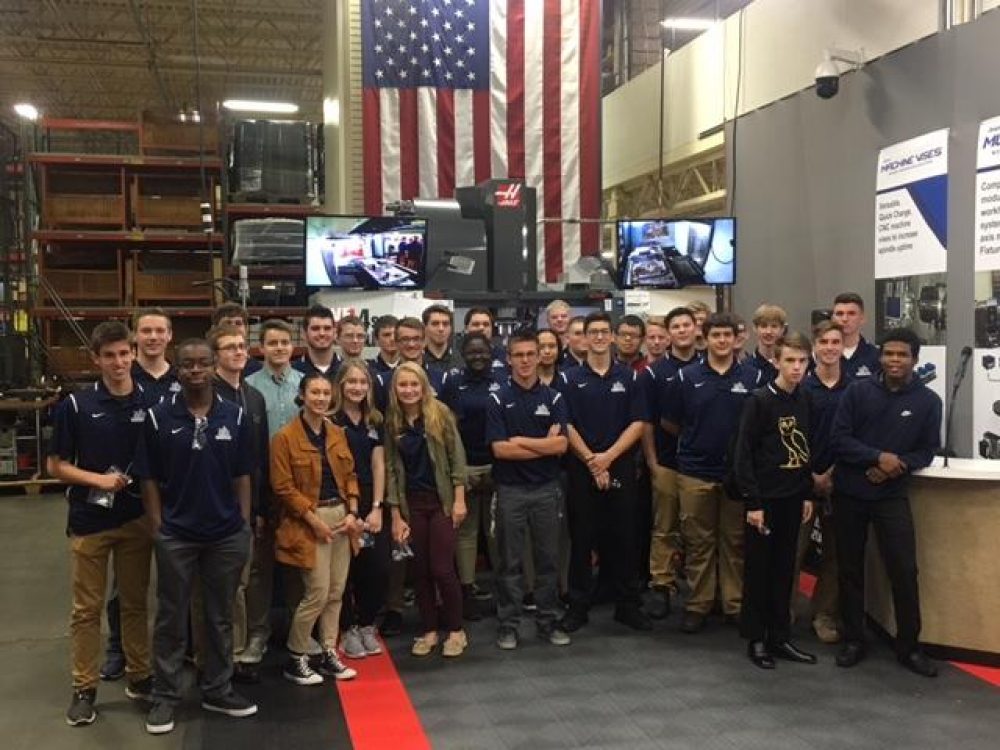 On October 19, the Engineering Academy visited Jergens, Inc. in Cleveland, Ohio. Project Manager, Jason Bateman, presented to the students about the history of the company and demonstrated some of their manufacturing processes. Jergens, Inc. produces tooling components, vises, and other workholding equipment. After a tour of the facility, the students were able to meet engineers and ask questions about internships, career paths, and the technology that is used by Jergens, Inc. The field trip was organized by Gregg Schoof, Assistant Director of Cleveland State University's Washkewicz College of Engineering, which is an Engineering Academy university partner.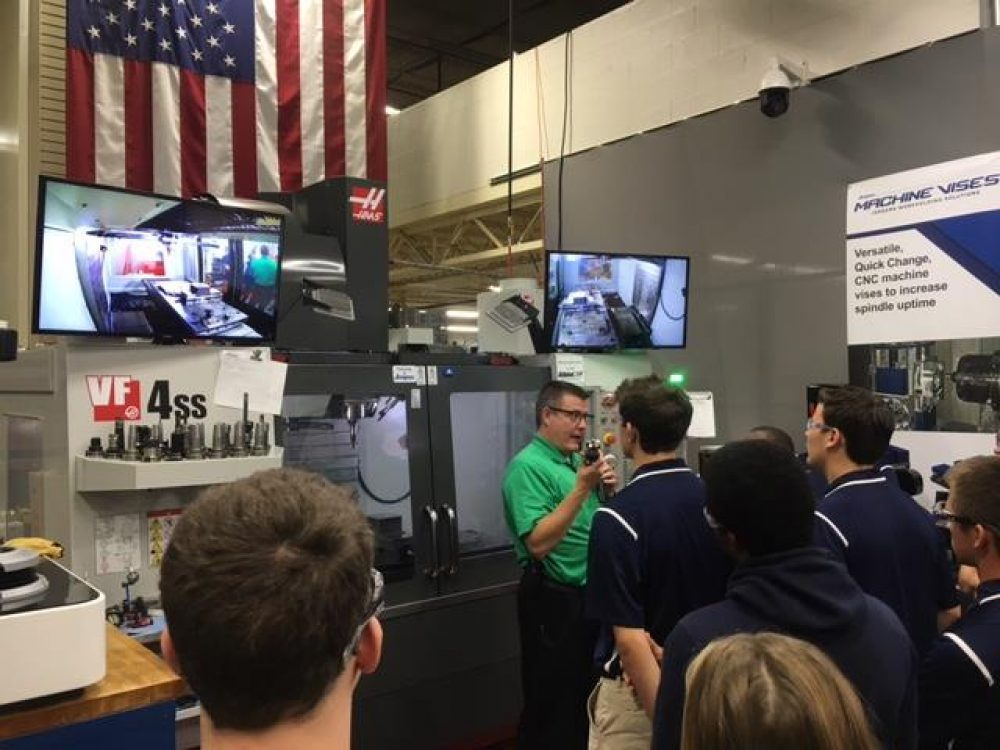 Hyland Software Tour-Best Places to Work for STEM and Engineering Careers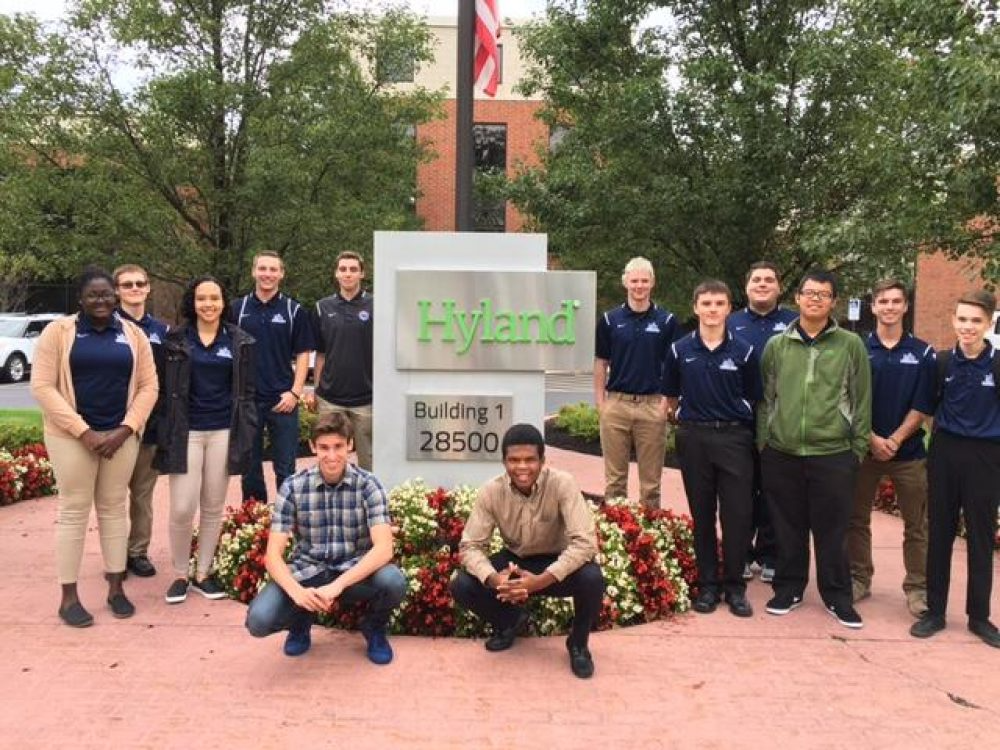 On October 5, the Level II students of the Engineering Academy visited Hyland Software in Westlake Ohio. These students participated in the Hour of Code and toured the impressive facility. During the tour, they learned about the creation of Hyland's On Base software, saw the modern, open work areas, and ate lunch in the employee cafeteria. Hyland is well known for its progressive mentality of workplace atmosphere. The Academy members were impressed by both the professionalism and happiness that Hyland employees emulate.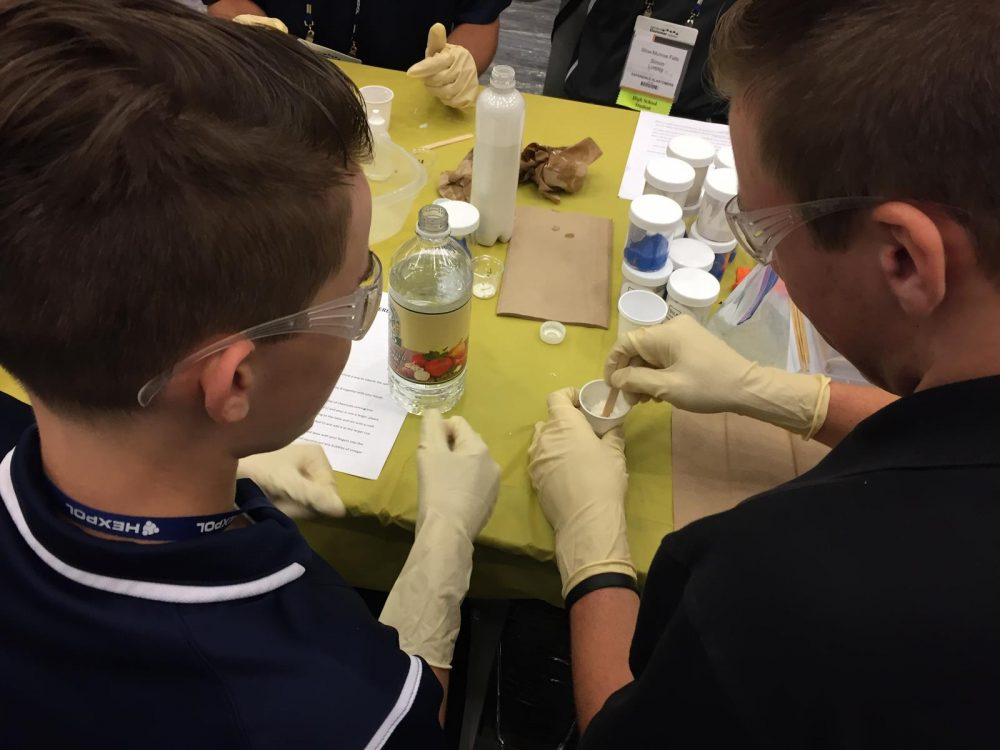 Level II Engineering Academy students took part in STEM based activities at the International Elastomer Conference hosted at the Huntington Convention Center in Cleveland. Students were exposed to the business world of elastomers with two speaker presentations from current professionals detailing their life experiences in the world of plastics. They then participated in the hands-on polymer work shown in the photos. Students used some of the same materials they actually test in the Polymer Rotation of the Engineering Academy. After a session of experimentation and debriefing on the polymers they were using, students were given special access to the International Elastomer Conference EXPO floor. Here, students participated in a scavenger hunt to obtain special stamps from the vendors present, where they saw large scale testing equipment in action. Some of the exact testing equipment was on-hand that we use in our Polymer Lab and students could talk to the vendors about their lab use of it.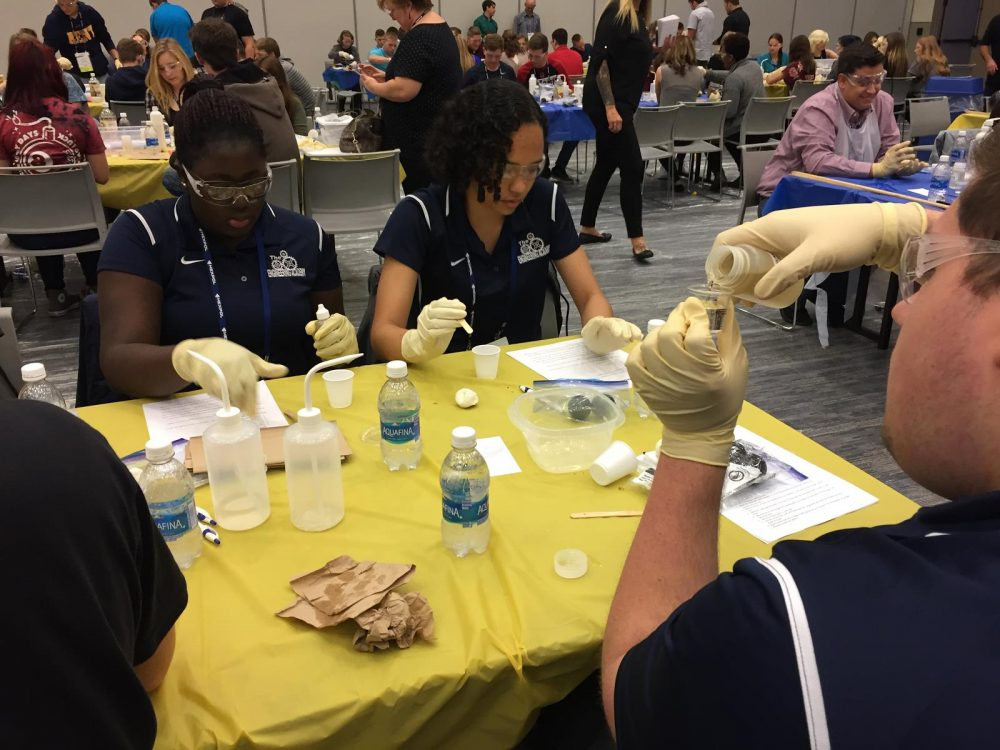 College Representatives Recruit Engineering Academy Students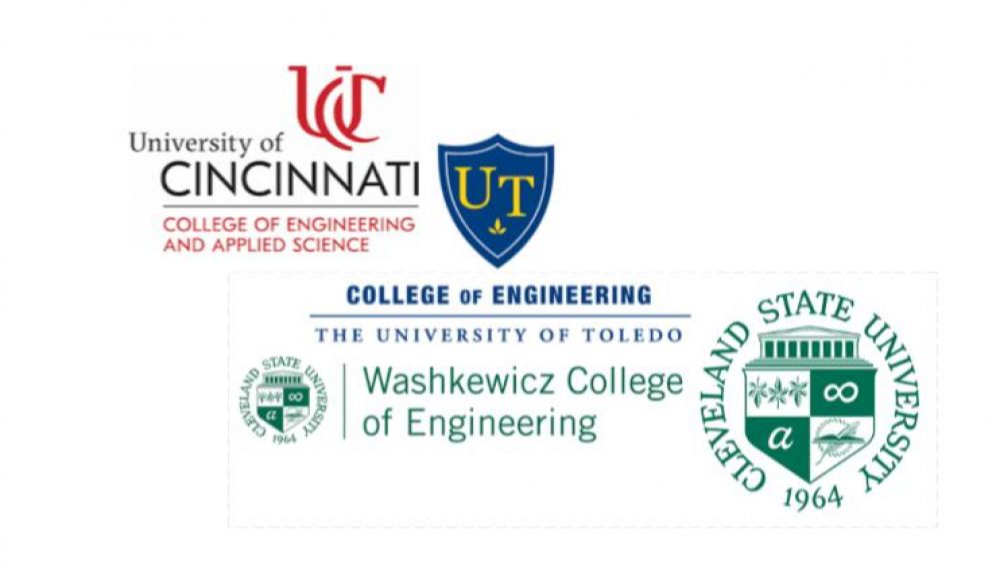 This fall, we are excited to welcome representatives from the Colleges of Engineering from The University of Cincinnati, The University of Toledo, and Cleveland State University. These representatives will each speak about what their respective College of Engineering has to offer. These recruiters are eager to meet and speak with our Engineering Academy students. They know the high caliber learning that takes place in the Academy helps our graduates transition smoothly into college coursework.
Audio-Technica Award Winners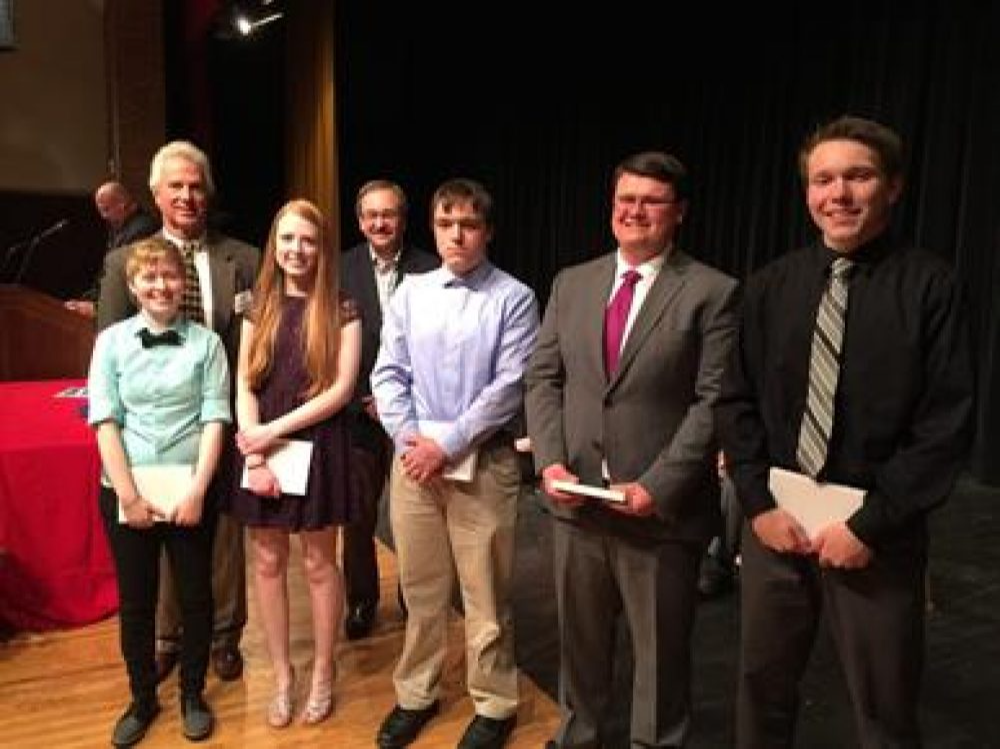 Five graduates from the Engineering Academy were presented with the prestigious Audio-Technica Award on May 8, 2017. Each year, Audio-Technica sponsors the award, which is given to students who maintain a 3.5 GPA in both academics and technology, while also upholding a 95% attendance rate, during their two years in the program along with completion of a capstone project.
Engineering Academy has a Egg Drop Design Competition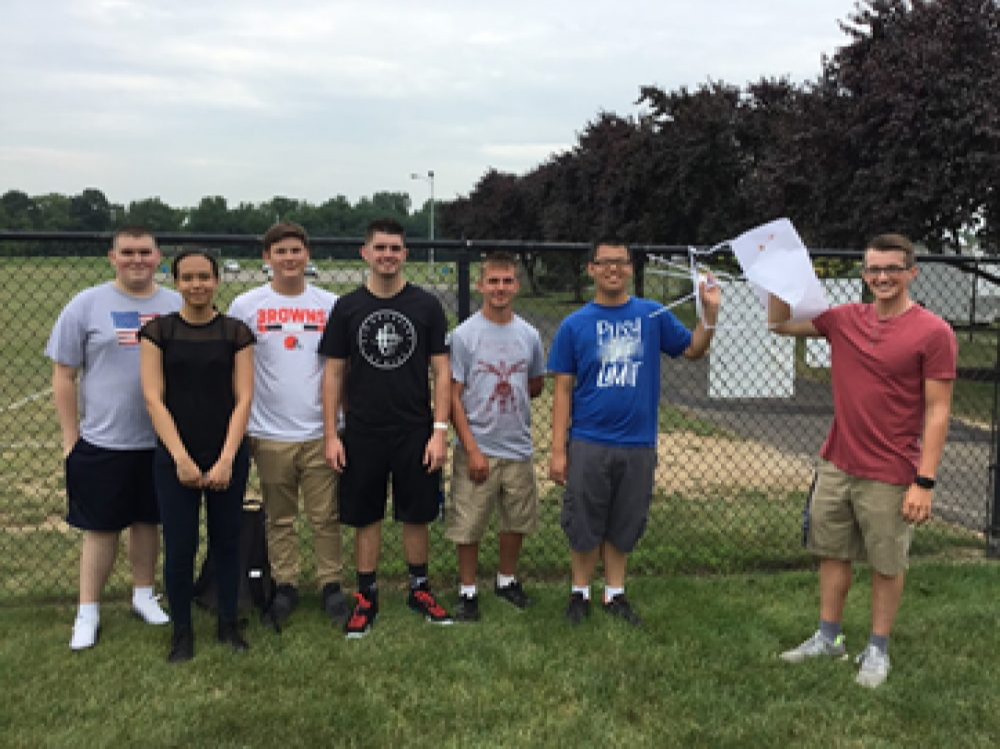 On the first day of school, Academy students were broken up into teams based on their home school to give Level 1 and Level 2 students a chance to work together. The students were given 10 sheets of paper and a meter of tape and were challenged to make a device that would protect an egg from breaking when dropped from the top of the stadium. They were given 20 minutes to design and build the device. The lightest weight device that kept the egg from breaking or cracking was declared the winner. Congratulations to the Tallmadge team, which won this year's challenge.